We always have a battle between North and South Goa. While a lot of people prefer North goa, we recently explored the South and we are in love with it. If you are looking for a relaxing vacation and not really a party person then the beach at South Goa is perfect to chill and have some wine.
Our top 5 must-see places:
Hollant Beach | SahaSea
If you reach the Airport early then you must directly go to Hollant beach and try the Sunrise Kayaking and Stand up Paddle Boarding. SahaSea adventure company organizes these and other water sports like sailing, snorkeling along with an instructor. The staff is super friendly and the activities are sure to make your day.
Link to website to book: https://www.sahasea.com
Cola Beach
This beach is mind-blowing, on one side you have the blue lagoon and on the other you have waves. The route to this beach could be a whole another adventure. The roads are rough and it's better to go with an experienced driver on a two-wheeler as four-wheeler could face a problem. Once you reach the beach you'll feel the effort was totally worth it. You can rent kayaks here and go kayaking on the lagoon but there are no instructors there so only if you are confident go for it. The beach is like a secret hideout and you can't miss out on it. If you stay a bit longer and not worried about how you would travel back on the bumpy roads the sunset from the top is a view you wouldn't want to miss.
Galgibaga Beach
This beach is also known as the Turtle beach and is one of three other Goa beaches where the state program of olive turtles saving and protection works and implemented perfectly. The whole northern part of this beautiful beach is used for turtles nesting. If you're lucky you get to see these turtles making way back into the ocean. The beach is among the unexplored beaches so you won't find any shacks at the beach. Pro-tip: carry your own beach towels, wine and loads of sunscreen. When we visited this beach we just swam and lied on the beach. We spent the whole evening relaxing and literally sleeping through the sound of the waves. One of the best experiences we had.
PS: you can do all your fun crazy poses here as there would be no one to judge you 😛
Water Skiing at Majorda Beach
Being a water baby we love all beaches but the beauty is that all beaches have something different to offer. Majorda beach offers water skiing apart from the other water sports. Other water sports are available at other beaches also but if you're keen on skiing then this is your beach. If you're a beginner then we suggest going along with an instructor but if you're confident then you can go to feel the rush.

https://www.thrillophilia.com/tours/water-skiing-at-majorda-beach?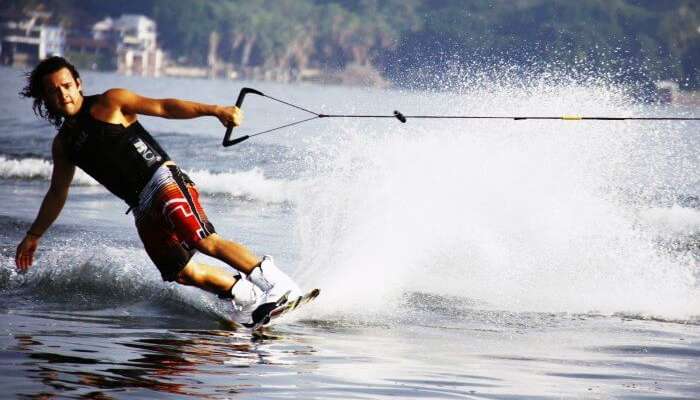 Agonda Beach
We stayed at the Agonda and felt that this is one of the places and affordable places to stay. There are a lot of beach accommodations that are worth staying in. You open your door and you're at the beach and sleep listening to the sound of the waves. There are plenty of good options for food along with great music – Dunhill, Kopi Desa, The Roadhouse Bar & Grill, Fatima's Corner for local cuisine.
You can get up and go for a good run alongside the beach or sit and meditate. This beach is peaceful and lively at the same time.

Stay Recommendation: https://www.tripadvisor.com.au/Hotel_Review-g816969-d13342974-Reviews-Indah_Desa-Agonda_South_Goa_District_Goa.html

https://www.tripadvisor.com.au/Hotel_Review-g816969-d1964989-Reviews-Dunhill_Beach_Resort-Agonda_South_Goa_District_Goa.html
PS: There are a lot of other beaches to visit but they could be slightly more crowded than these but that doesn't make it any less worth visiting.
Leave us a comment with your favourite thing to do in Goa.